Scrum Master
15-16 September 2022
Certified
In-person @ SF Experience
Computerweg 37, 3821 AA Amersfoort
In-person @ SF Experience
---
Computerweg 37, 3821 AA Amersfoort
---
The Professional Scrum Master (PSM) training is a two-day course that addresses the theory and principles of Scrum. The focus of this course is not only on knowing Scrum but also on living it to encapsulate the true power of the framework. Connecting theory to practice is therefore very important. After this course, you will understand what Scrum is (and isn't) and how to start applying it in your organization and team.
People with a lot of different (current) roles find value in this course. You don't have to be a Scrum Master per se. You could be a project manager, team lead, IT development manager, Product Manager, Test manager, business analyst, architect, developer, tester, marketing or content specialist and so on. Having some experience with Scrum is useful, but not necessary. For people new to Scrum the Professional Scrum Master training is an excellent starting point.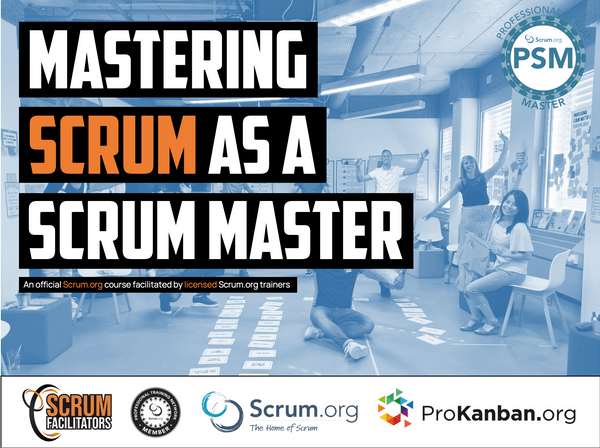 In-Person classes
In-person training located in the Netherlands default Dutch, unless participants request otherwise. In that case we will check with all the participants if it is ok for them to default to English.
Who should take this course?
Whether you're a Manager, Team Lead, Business Analyst, Architect, Developer, Tester, Marketeer, UX Designer, Content Specialist, etc., this course is for everyone interested in learning the Scrum framework. The Professional Scrum Master ("PSM") is THE cutting-edge course to deepen your understanding of the Scrum framework and the accountabilities of the Scrum Master in it.
The focus of this training lies within the theory behind Scrum and the basic principles within this framework. The training is a mix of theory and practical assignments, mostly formed into a workshop to maximise learning.
After this training:
It will be clear what Scrum is;
You will understand the principles and values of Scrum;
You will know more about servant leadership as Scrum Master to your Scrum Team, Product Owner and organisation;
You will be able to start with Scrum within your team, to increase effectiveness and collaboration;
You will be able to facilitate different Scrum events;
You will know what roles and responsibilities are important and how they should be applied within Scrum
The training is divided into different modules. Of course, we will inspect and adapt based on your questions and experiences. The training consists of:
Introduction
Theory and principles of Scrum
Scrum Framework
The importance of Done (and undone)
Product Delivery
People and teams
The role of the Scrum Master
To maximise your learning experience, we advise you to read the Scrum Guide (at least once) and write down your questions and remarks. You can also take the free online Open Scrum assessment on the Scrum.org website.
After the training, you will have access to the classroom page which will have a lot of material to be able to review and read more in-depth information.
After the training, you will receive an assessment code from Scrum.org support to take the PSM assessment. There is no expiration date on this assessment code. However, when you take your first attempt within two weeks after the training and do not pass the 85% marker, you will automatically receive a new code to do a second attempt.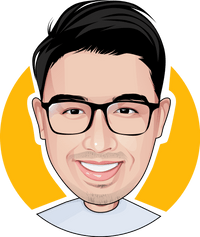 Chee Hong is one of the handfuls of scrum.org certified trainers worldwide licensed to teach all the scrum.org courses. He has been heavily involved with Scrum since 2006. His experience comes from working with numerous organisations in Europe and Asia, where he helps and coaches scrum teams, middle management and C-level executives in the art of servant leadership, empirical thinking, bottom-up intelligence, the power of self-organisation, evidence-based management and validate-learning. Chee Hong's mission is to improve the profession of product delivery and coaching organisations in their Agile transformation journey. To do this, he combines Scrum with Kanban, Lean, and Extreme Programming practices while respecting the underlying Agile values and principles.
As a Professional Scrum Trainer, Chee Hong combines his two passions: travelling and Scrum. He travels worldwide with Scrum in my backpack to meet other Scrum experts. During his travels, he writes, speaks at conferences, helps professionals discover the underlying values and principles behind Scrum, and challenges students to re-imagining Scrum's true potential. All this travel experience and learning can be found in his classes, where he mixes up the craziness, fun and serious learning to make Scrum stick.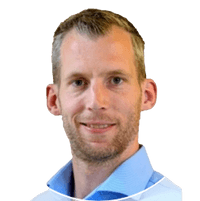 Kristian comes to the table with years of experience as Business Consultant, Project Manager, Process Specialist and Information Analyst. At this moment, Kristian works as Scrum Master at ZorgDomein where he facilitates and coaches five Scrum Teams working in a scaled Scrum environment where the Nexus Framework is being used.
Overview of our

PSM

courses